Our Expertise
Integrations
Numerous ERP & CRM systems and standard M-Files connection to external databases. (Dynamics GP, Landworks, Aries, Excalibur, etc.)
ESRI GIS Integration – ERP & Forestry systems, using the M-File API and web services.
Replacement of third party Integrated DMS with M-Files for a commercial application.
PsiGen Integrations
Implementations
We've performed over 22 M-Files implementations in the last 2 quarters of this year.
Financial, Banking, Insurance, Engineering, Manufacturing, Real Estate, and Healthcare
Vault builder tool can create a vault in less than 5 minutes from specifications.
Web Portals
Custom M-Files Portal – 1000 real estate agents use the Portal to register properties and all require docs.
GE Capital – Manages 3 Billion Dollar oil & gas portfolio on a financial web portal integrated with 30 different accounting systems.
Insurance Portal that integrated with existing EIM System.
QMS
We've initiated our first QMS project in conjunction with M-Files Services for Consumer Testing Labs.
Implementation Services
Migration of existing documents from network folders or legacy systems
Development of a customized metadata driven vault that expedites finding documents based on "What it is" versus "where someone put it"
Connecting to external databases such as ERP, CRM, or other structured data to leverage as metadata for documents
Connecting to email servers or network folders for automated capture of documents
Implementation of custom workflows and Views to support your business processes.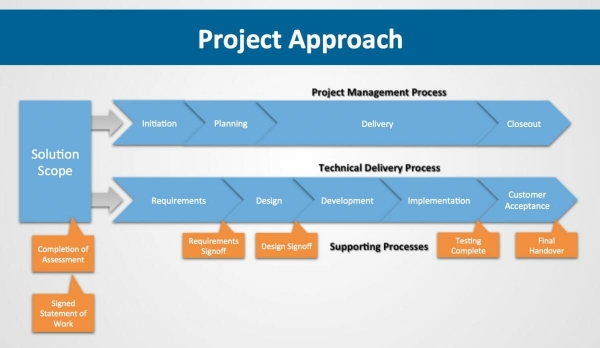 1. Requirements Gathering
We will work with you and the client to gather all the necessary requirements for a successful M-Files implementation and vault build out. We use a variety of methods by which we can extract, elicit and discover the requirements from the Client.
Translate business needs into a clear, detailed specification of what the system must do
Ensure that there is mutual understanding and agreement from all stakeholders on the parameters of a successful project.
Serves as the input to the subsequent project phases
Focus on understanding the flow of information and decisions through business processes, the related business requirements for information handling, and the prioritization of those requirements
During the requirements phase, the technical infrastructure is also reviewed to understand the environment in which information handling will operate
2. Design
During this phase our System Architects will design a solution from the requirements gather in the steps above.
Document the M-Files Functional Requirement and M-Files Configuration Requirements

Document Structure
Non Document Object Structure
Value Lists
Permissions
Workflows
Views
Templates

Design integrations to external data sources such ERP's, CRM or any other source of record.
Custom programming requirements including scripting and JSON as well as any web portals will be completely scoped.
3. Development
Using Strickland Solution's vault builder tool which is based on the M-Files API, we can build your entire vault in a matter of minutes from the specifications gathered in steps 1 & 2 above. We will also build any custom integrations, or web portals as specified in the design.
Develop the entire M-Files solutions including Vault Structure, Workflows and Templates.
Develop integrations to external data sources
Develop custom applications or web portals
4. Implementation
Working with the client's IT staff, we will stand up the solution on the clients hardware for on premise implementation or host the solution in Strickland Solutions' Amazon Cloud. During the implantation we will certify that the solution is fully functional using a series of functional and systematic QC testing.
Install M-Files Server and other necessary components
Install M-Files Client
Validate functional performance
5. Customer Acceptance
Finally we will work with you on User Acceptance Testing to validate that the solution. Strickland Solutions will also provide both technical and user training.
Support and assist on User Acceptance Training
Provide M-Files Administration Training
Provide M-Files User Training
Provide M-Files API Training